Did you know? 1 in 6 males will be diagnosed with Prostate Cancer in their lifetime…
PROSTATE CANCER STATS  : Source: World Cancer Research Fund
2nd most common cancer in men
5th most common cause of cancer deaths amongst men
1.3 million new diagnoses in 2018
Age, diet and genetics contribute to your risk of getting Prostate Cancer
Meet Anthony;  he is a Business Owner who earns an income from managing his business.  In the event of his absence from work, there will be a decrease in turnover.  He will not receive any disability benefit from his business.
Anthony's expenses..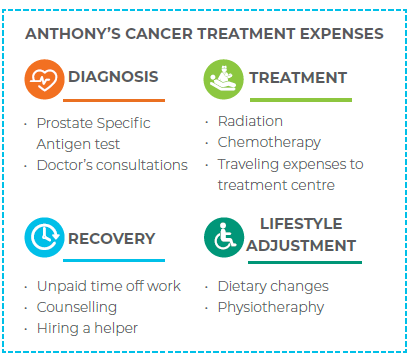 Fortunately ANTHONY has GREENLIGHT RISK COVER BENEFITS:
Sickness Income benefit (1 month waiting period)
Pays up to 100% of net income when booked off sick (up to 24 monthly income payments)
Loss of income is not assessed at claim stage
Disability Income benefit (24 months waiting period)
Pays up to 100% of net income when he can't work for more than 24 months
It'll start paying when the Sickness Income benefit ceases after 24 months
Severe Illness benefit
Pays a lump sum to help with treatment, recovery and lifestyle adjustments.
Disability Lump Sum benefit
Pays a once off lump sum when he's permanently disabled or impaired.
Rates for Disability Income has been reduced! Client can have 100% of net income covered for Sickness benefit and Disability Income benefit.